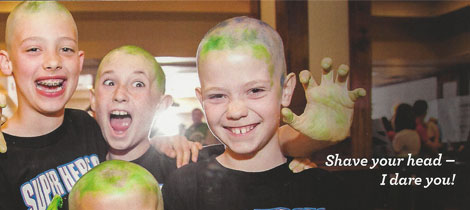 In this day and age, it's impossible not to be touched by cancer. Everyone has friends, family and co-workers that have fought with boughts of cancer. We're no different. I lost both a cousin and grandmother to cancer.
Most recently though, both the CEO of the company I work for (Clean Design) and a friend and former co-worker have been diagnosed with forms of cancer. Both fought and won though — reason for celebration.

More tragic and heartbreaking that cancer in general is children's cancers — robbing them of their childhood by bouts of cancer.
We're also lucky enough to have two happy, healthy and high-energy boys — currently 3 and 6 years old. We're so grateful that they're healthy and are able to live
It's in honor of those in our life that have been touched by cancer, our healthy sons, and ultimately all those that have been touched by cancer that I'm participating in St. Baldrick's fundraising efforts this year. Around this time next Sunday, I'll be shaving my head shaved to raise awareness. If you can, please help by donating a few bucks. Every dollar helps.
Donate here to help me hit my goals and ultimately help children's cancer research.
Anything you can give is highly appreciated.
Every 3 minutes a child is diagnosed with cancer. Let's help change that and their prognoses. To make matters worse, childhood cancer research is extremely underfunded. So I decided to do something about it by raising money for cures. Please help if you can.
Proud to fund childhood cancer research with @StBaldricks https://t.co/plDAnO2jlX

— Ryan Keefer (@ryankeefer) April 17, 2016