It's that time again. For the past three years, our family been involved with St. Baldricks, earning money by shaving our heads and getting money pledged in our names. Three years ago, I shaved my head, and the rest of the family was there supporting me. Last year, Tyler joined in getting his head shaved. Now this year, Nolan will join us — all to assist St. Baldricks in raising money for pediatric cancer research.
It's a fun, and easy way for us to celebrate that our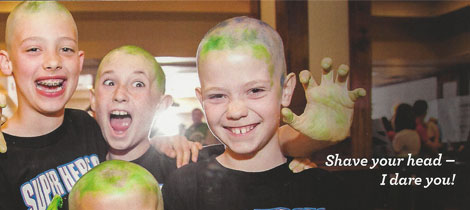 It's nearly impossible not to be touched by cancer. Everyone has friends, family, and probabbly co-workers that have had bouts.
Most recently though, both the CEO of the company I work for (Clean) and a friend/former co-worker have been diagnosed with forms of cancer. Both fought and won though — reason for celebration.

Healthy Kids
Our family is also lucky enough to have two happy, healthy and super high-energy boys — currently 5 and 8 years old. We're so grateful that they are healthy and live with so much happiness and are devoid of pain.
It's in honor of those in our lives that have been touched by cancer, our healthy sons, and ultimately all those that have been touched by cancer that the trio of Keefer boys are participating in St. Baldrick's fundraising efforts again this year. This Saturday at Lonerider, all three of the Keefer boys will be getting their hair buzzed off between soccer games to raise money for St. Baldricks.
Donate What You Can
Donate here to help Nolan, Tyler, and myself hit our goals and ultimately assist children's cancer research.
Anything you can give is highly appreciated.
Every 3 minutes a child is diagnosed with cancer. Let's help change that and their prognoses. To make matters worse, childhood cancer research is extremely underfunded. So I decided to do something about it by raising money for cures. Please help if you can.