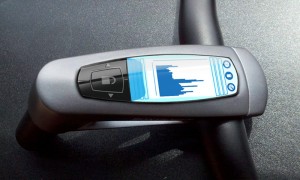 Love the look of this computer integrated in the bike stem, but I question the utility. That screen would have to be pretty tiny. I can't picture the amount of information my Garmin Edge 500 has displaying well on a stem-integrated screen, and I can't picture me wanting a computer that gave me less data than my Garmin. I love having three screens of rotating data, including a screen of current data and another of averages (including speed, cadence, heart rate, etc.). No way that all would be feasible in a little old screen like this one would need.
I guess I wouldn't be the target for this concept. It would be more aero than a computer sitting atop the handlebars or stem. Personally, I'd rather have more data than a little more aero advantage.
This seems a bit high-tech for Bontrager (tech), but hope they're heading down the road of more tech-related R&D.